Good Cocktail Passport brought to you by USBGRoc & Barrow's Intense Ginger Liqueur
 THE ROCHESTER GOOD COCKTAIL PASSPORT
– Enjoy 15 cocktails made with Barrow's Intense Ginger Liqueur at 15 different bars & restaurants –
March 10, 2016 through May 1, 2016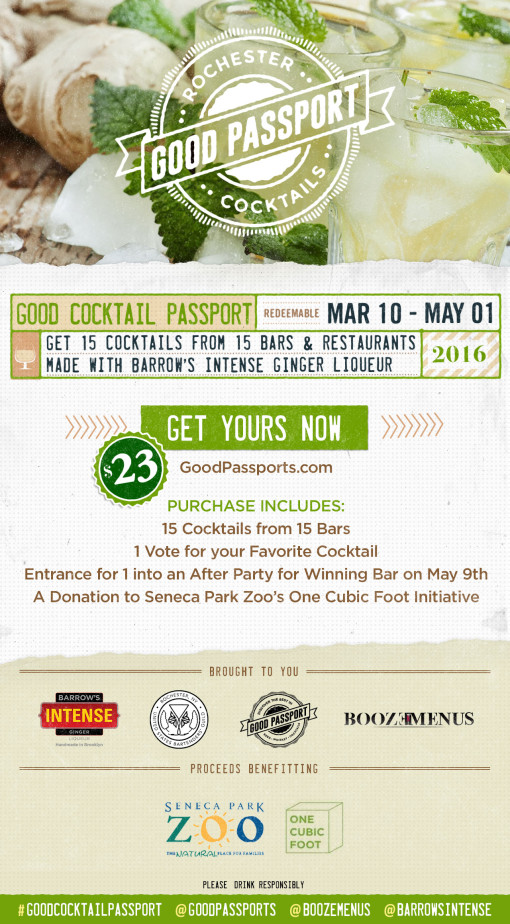 Price: $23
Good Passports,  BoozeMenus along with United States Bartenders Guild of Rochester and Barrow's Intense Ginger Liqueur present the Good Cocktail Passport which will act as a fundraiser for the Seneca Park Zoo Society's One Cubic Foot Initiative.
By purchasing the Good Cocktail Passport, you'll get one demi-cocktail made with at least .5 oz of Barrow's Intense Ginger Liqueur at each location, plus entrance into after party.
You can use the passport on any day, at any time from March 10, 2016 through May 1, 2016.
Each of the bars involved in the Good Cocktail Passport are participating in a contest to see which one makes the best cocktails and you get to decide the winner! At the end of redemption, you'll get to vote for your favorite bar. The winning bar will  host a victory party on May 9, 2016 and your Good Cocktail Passport is your ticket to attend.
The winning bar from the competition will select their favorite charity organization and donation will be made in their name on behalf of Good Passports.
When purchasing a Good Cocktail Passport, choose the location where you would like to pick up your Passport. Passports are available for pick-up from March 10, 2016 through April 10, 2016.
How it Works:
Buy a ticket for your preferred Passport pick-up location.
Pick up your Passport at the location you chose any day from March 10, 2016 through April 10, 2016.
Bring your Passport to each of the participating locations any day from March 10, 2016 through May 1, 2016 and choose one cocktail made with Barrow's Intense Ginger Liqueur.
Please remember to tip your bartenders, as gratuity is not included.
Participating Locations:
INTERACTIVE MAP OF PARTICIPATING LOCATIONS

Bars & restaurants interested in participating in the Passport should please reach out before February 21st at goodpassports@yeahmanagement.com

Important Points
*Must be 21 years or older with valid ID
*1 Passport per person
*Misplaced Passports can not be replaced
*No refunds will be available after April 10, 2016
About Good Passports:
Good Passports work with bars, restaurants, breweries, distillers and alcohol retailers to drive in customers by creating limited-time promotions with multiple venues. Customers acquire a Passport that guides them around a city where they get to sample various drinks at a number of different locations. By purchasing a Passport, customers also receive a periodic email newsletter alerting them of cool and exclusive events from the participating locations.
About BoozeMenus:
BoozeMenus is THE source for cocktails and nightlife in NYC. Take the guesswork out of your social life search with the all-encompassing guide to venues, new openings, cocktail & spirit trends, parties and more.
About United States Bartenders Guild of Rochester:
We believe tending & owning bars is an honorable career choice. Our goal is to empower bartenders to take charge of their careers. We accomplish this through working with our committed partners to enrich the career advancement of our members through peer-to-peer learning, expert instruction, service projects, and competition. Since knowledge is power, our chapters hold cocktail competitions, sponsor intimate seminars with internationally recognized brand representatives, and forge relationships between top bar talent in 50 cities and counting. We offer all our members opportunities to compete, travel around the world, and spread knowledge in the pursuit of elevating our craft.
About Barrow's Intense Ginger Liqueur:
Named for the New York street on which it was born, Barrow's Intense Ginger Liqueur was conceived around a table where a passionate group of family and friends gathered for serious food and drink. Made with generous amounts of fresh ginger, this hand-made liqueur bursts with a distinctive flavor alone or in cocktails. Made with fresh ginger, neutral cane spirit and sugar. No chemicals, preservatives or extracts. Ever.
About Seneca Park Zoo Society's One Cubic Foot Initiative:
The Seneca Park Zoo replication of One Cubic Foot in the basin of the Genesee River – to assess and spotlight the health of the Genesee River – will provide a portrait of the biodiversity in its ecosystem. Once declared one of the United States' most polluted rivers, the Genesee River is being brought back to life through the efforts of many, allowing the reintroduction of North American river otters and lake sturgeon. By providing invaluable scientific information and baseline data regarding the plant and animal species now living the in the Genesee, One Cubic Foot heightens awareness of water quality and other environmental issues in the river.