The 2016 NYC Good Tequila Passport – 20+ Drinks From 20+ Bars for $37
 THE NYC GOOD TEQUILA PASSPORT
–1 Tequila or Tequila Cocktail at Each Participating Location–
July 1, 2016 through September 5, 2016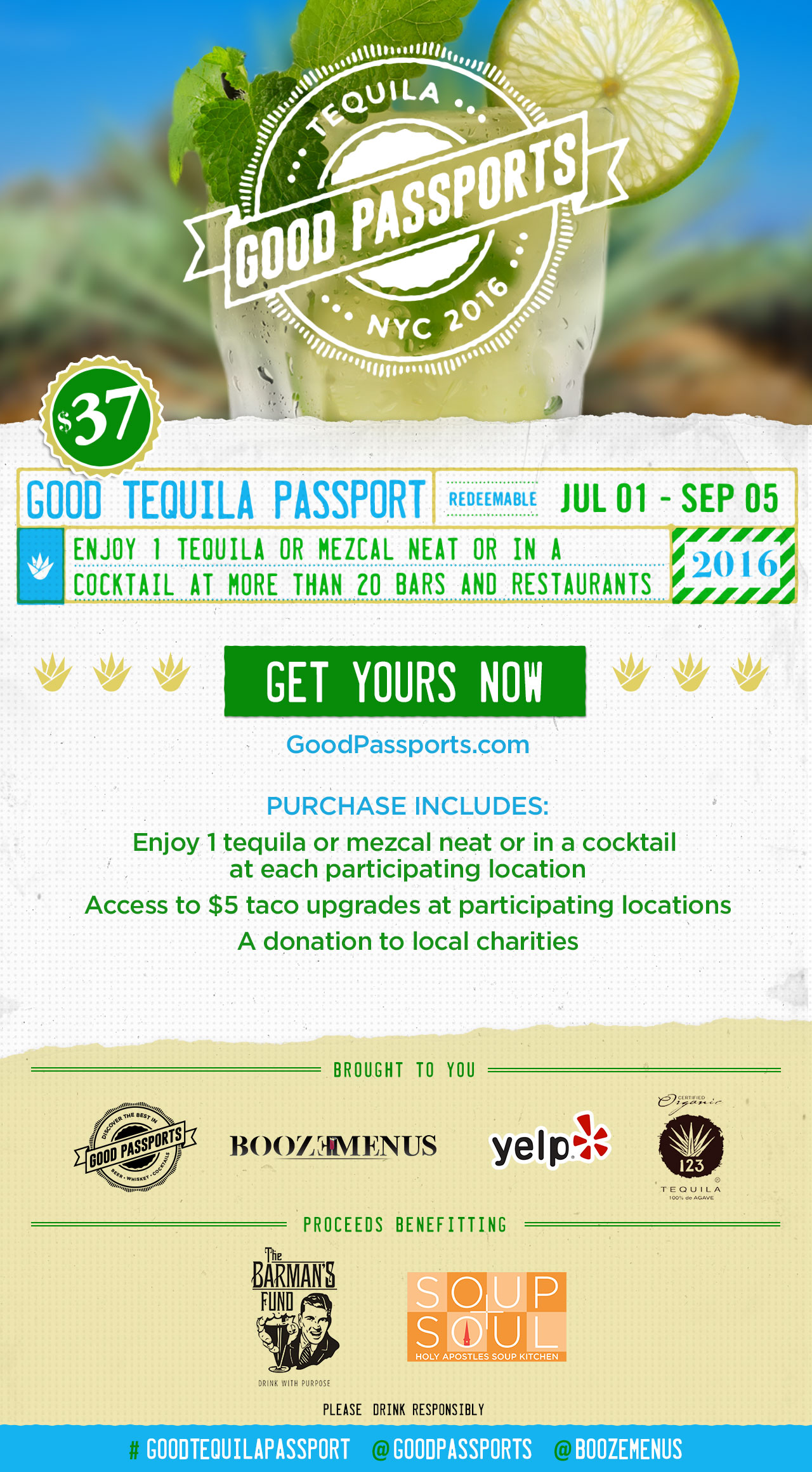 Price: $37
By purchasing the Good Tequila Passport, you'll get one tequila / mezcal cocktail or a neat or rocks pour of tequila / mezcal at each location.
Cocktails are based on 1 oz pours of liquor. You can use the passport on any day, at any time from July 1, 2016 through September 5, 2016.
While you're enjoying the Good Tequila Passport, you'll get to try tequila drinks made with 123 Tequila, a small-batch, all organic distiller making spirits from the roasted heart of the Blue Agave.
Several of the locations participating in the Good Tequila Passport are offering you a $5 Taco / Nacho upgrade+. Just present your Passport and ask for the Taco / Nacho upgrade. For $5 you'll receive a special taco or nacho dish.
When purchasing a Good Tequila Passport, choose the location where you would like to pick up your Passport. Passports are available for pick-up from July 1, 2016 through July 31, 2016.
How it Works:
Buy a ticket for your preferred Passport pick-up location.
Pick up your Passport at the location you chose any day from July 1 through July 31, 2016.
Bring your Passport to each of the participating locations any day from July 1 through September 5, 2016 and choose one cocktail or neat pour. Ask the bartender which cocktails or spirits you can choose from.
Please remember to tip your bartenders, as gratuity is not included.
Participating Locations:
+ = $5 Taco Upgrade available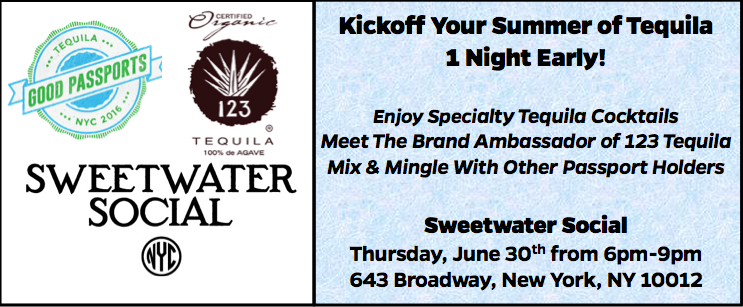 Good Tequila Passport Kickoff Party
June 30, 2016
6:00 p.m. – 9:00 p.m.
Sweetwater Social
643 Broadway
New York, NY 10012
Join us at our grand kick-off party, where you can redeem your drink 1 night early AND enjoy a $10 specialty cocktail featuring 123 Tequila all night! Meet and Greet the Brand Ambassador of 123 Tequila.
A portion of the proceeds from the featured cocktail will support our charity partners.
VIP tickets come at no additional cost but there is a very limited amount available.
If you want to attend the kickoff event, you must choose the option to purchase one of the VIP tickets and pick up your Passport at Sweetwater Social during the party on June 30th between 6:00 p.m. – 9:00 p.m.
INTERACTIVE MAP OF PARTICIPATING LOCATIONS
Important Points
*Must be 21 years or older with valid ID
*1 Passport per person
*You may buy 1 additional as a gift
*Misplaced Passports can not be replaced
*No refunds will be available after July 31, 2016
About Good Passports:
Good Passports work with bars, restaurants, breweries and alcohol retailers to drive in customers by creating limited-time promotions with multiple venues. Customers acquire a Passport that guides them around a city where they get to sample various drinks at a number of different locations. By purchasing a Passport, customers also receive a periodic email newsletter alerting them of cool and exclusive events from the participating locations.
About BoozeMenus:
BoozeMenus is THE source for cocktails and nightlife in NYC. Take the guesswork out of your social life search with the all-encompassing guide to venues, new openings, cocktail & spirit trends, parties and more.
About The Barman's Fund:
The Barman's Fund is a motley assortment of bartenders who pledge one shift a month and donate every last dollar you tip to local charitable organizations. Since 2011, we have started chapters in Austin, New Orleans, Charlotte, LA and more – and raised over $200,000 for folks who need it. So come plant your tail on a barstool, and drink with purpose!
About Holy Apostles Soup Kitchen:
New York's largest emergency food program, Holy Apostles Soup Kitchen serves a hearty and nutritious meal to more than 1,000 homeless, food insecure and those that just need a hand up. We recognize the hunger in our city goes beyond the need for food. At Holy Apostles we offer our guest refuge from the streets, a safe place they feel welcome, connection to additional service and food for the soul as well as the body. In over 35 years we have never missed a serving day and we have never turned anyone away from our door.  Our mission is to feed the hungry, comfort the afflicted, seek justice for the homeless and provide a sense of hope and opportunity to those in need.