Rochester Craft Beverage Trail Passport
THE ROCHESTER
CRAFT BEVERAGE TRAIL PASSPORT
–1 Drink at Each Participating Location–
July 8, 2016 through September 5, 2016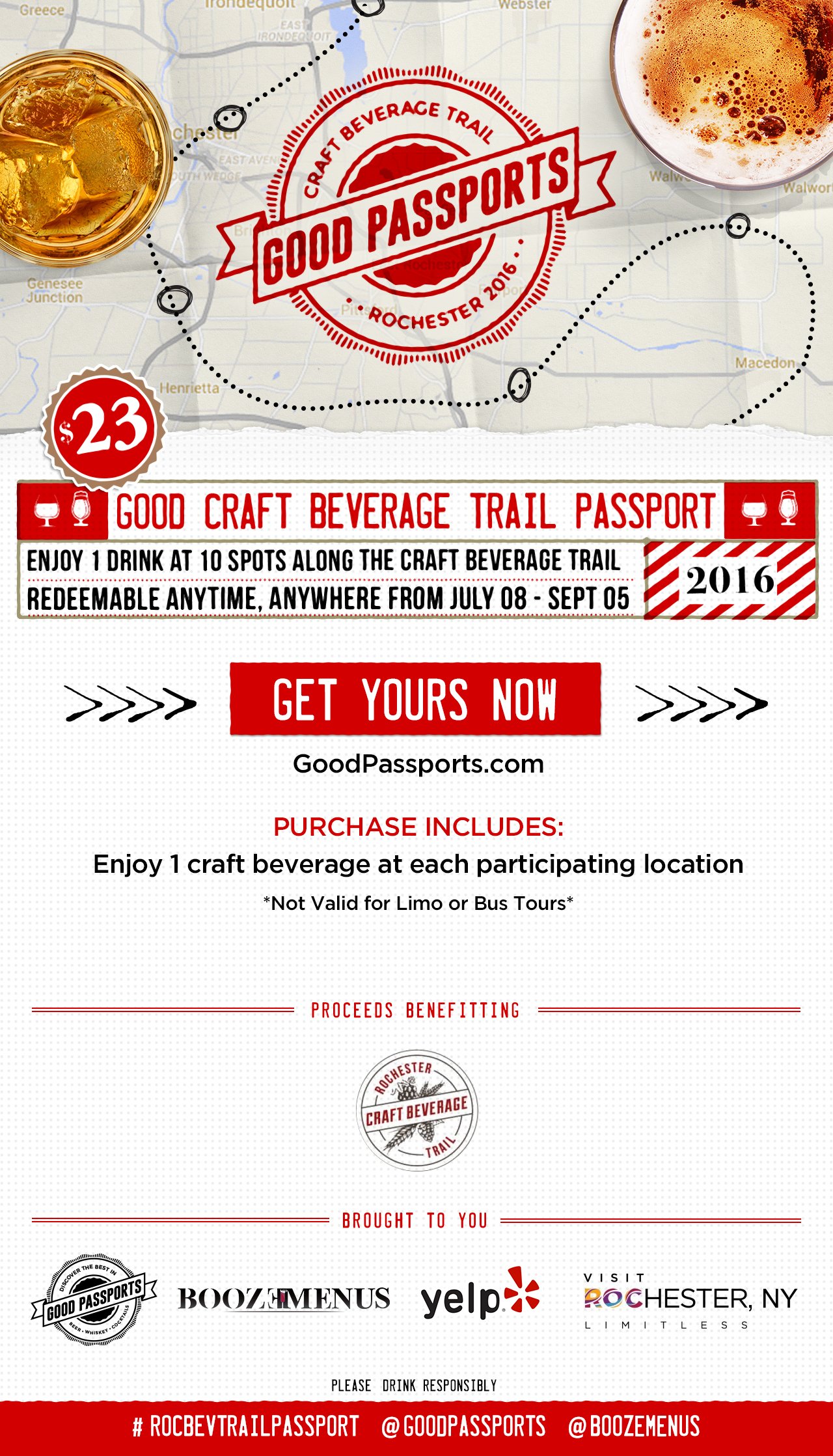 By purchasing the Craft Beverage Trail Passport, you'll get one house made spirit / cocktail, beer, wine or cider at each location.
You can use the Passport on any day, at any time that the locations are open from July 8, 2016 through September 5, 2016.
Passports are available for pick-up at Black Button Distilling from July 8, 2016 through September 3, 2016.
How it Works:
Buy a Passport
Pick up your Passport at Black Button Distilling any day from July 8 through September 3, 2016 during their operating hours:

Sunday & Monday: Closed
Tuesday and Wednesday: 12:00-6:00 p.m.
Thursday and Friday: 12:00-9:00 p.m.
Saturday: 9:00-5:00 p.m.

Bring your Passport to each of the participating locations any day from July 8 through September 5, 2016 and choose one house made spirit / cocktail, beer, wine or cider. Ask the bartender which cocktails or spirits you can choose from.
Please remember to tip your bartenders, as gratuity is not included.
Participating Locations:
INTERACTIVE MAP OF PARTICIPATING LOCATION

Important Points
*Must be 21 years or older with valid ID
*1 Passport per person
*You may buy 1 additional as a gift
*Misplaced Passports can not be replaced
*No refunds will be available after August 8, 2016
*Not valid for limo and bus tours
About Good Passports:
Good Passports work with bars, restaurants, breweries and alcohol retailers to drive in customers by creating limited-time promotions with multiple venues. Customers acquire a Passport that guides them around a city where they get to sample various drinks at a number of different locations. By purchasing a Passport, customers also receive a periodic email newsletter alerting them of cool and exclusive events from the participating locations.
About BoozeMenus:
BoozeMenus is THE source for cocktails and nightlife in NYC. Take the guesswork out of your social life search with the all-encompassing guide to venues, new openings, cocktail & spirit trends, parties and more.
About Rochester Craft Beverage Trail:
Experience Rochester through one of its greatest craft industries. From beer brewed with locally grown hops to vodka distilled with wheat grown along Conesus Lake, our craft drinks are made with pride. So follow the trail, find your new go-to drink, and meet amazing people along the way. Cheers, my friend, and welcome to our city.
About Visit Rochester:
Visit Rochester is Monroe County's official tourism promotion agency. A multifaceted organization dedicated to attracting visitors to our region, assisting visitors in finding the best that Rochester, and the Finger Lakes, have to offer and inviting and encouraging visitors to return again and again.
About Yelp Rochester:
Yelp connects people to great local businesses. Visit Yelp Rochester or download the free Yelp app for recommendations on everything from bars to burgers!