The Fall Cognac Crawl – NYC
THE FALL COGNAC CRAWL – NYC
Taste Classic Cocktails with the Spirit that Started It All — Cognac — at 5 of NYC's Coolest, Most Iconic Bars and Learn More About This European Geographical Indication

September 22 – October 22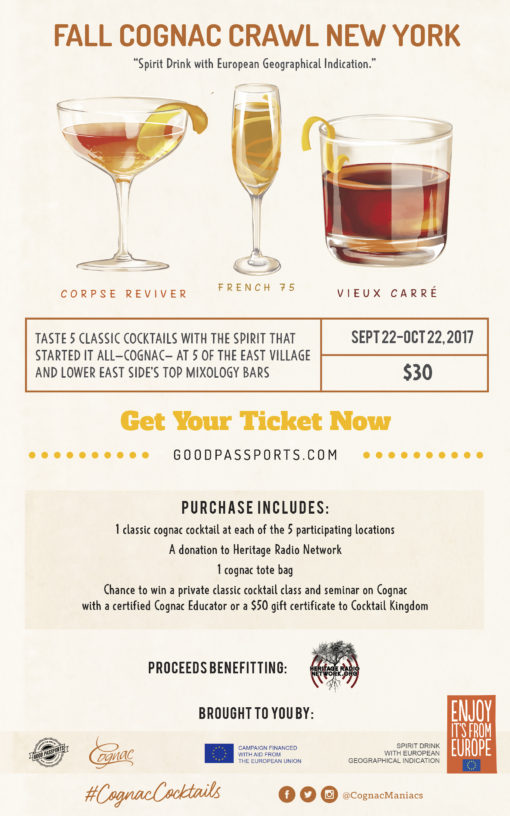 PRICE = $30
The Cognac Geographical Indication has teamed up with Good Passports to offer a taste of classic cognac cocktails at the East Village and Lower East Side's top mixology bars.
Produced only in southwestern France and one of the world's most famous spirits, Cognac is the originator of many classic cocktails, ranging from the French 75 to the Sidecar. At each of these bars, you'll have the opportunity to taste a rendition of a classic and experience why Cognac captivated the stirrers and shakers of the world's first cocktail-makers.
In addition, a portion of the proceeds will go towards Heritage Radio Network, which is the world's pioneer food radio station and runs 100% on the support of its members and community partners. It was founded by Heritage Foods USA, which aims to preserve endangered species of livestock from extinction.
By purchasing a ticket, you'll get one cocktail at each location, along with a custom tote bag and information on how Cognac came to be the backbone of the classics. In addition, each purchaser will have the chance to win a private Cognac education for 2 with a certified Cognac Educator, with the opportunity to learn how to create two classic cocktails (1 winner only). Five purchasers will have the chance to win a $50 gift card to Cocktail Kingdom, to stock their home bars.
Featured Cocktail Bars:
The Cognac Crawl Passport gives you access to top cocktail bars such as Amor Y Amargo, Boilermaker, Mace, Nitecap and Pouring Ribbons.
How it Works:
Pick up your ticket and tote bag at Boilermaker any day from September 22 through October 21, 2017.

Bring your ticket to each of the 5 participating locations any day from September 22 to October 22, 2017 and savor your cognac cocktail.

Please remember to tip your bartenders as gratuity is not included.
About the Featured Cocktail Bars:
Amor Y Amargo:

This intimate cocktail bar offers an extensive list, which aims to highlight classic Italian and craft bitters. Located on East 6th Street near Avenue A, their highly knowledgeable team recommends both one-of-a-kind and classic drinks.

Boilermaker: Located at 1st Avenue and 1st Street in the East Village, Boilermaker is a laid-back neighborhood bar serving a selection of top-notch cocktails as well as their namesake Boilermakers (beer and shot pairings) and hit-the-spot burgers.
Mace: Mace focuses in on specific spices that incorporate complementing adventurous ingredients such as cooked barley, mushroom-infused spirits and peanut butter fat washes to create innovative cocktails. It is located on 9th Street between Avenues B and C in the East Village.
Nitecap: Though it looks sleek and sexy, Nitecap is a cocktail bar without pretension, serving up some of the most interesting, seasonal drinks in various categories—from spritz to slushies and punches. It is located at Rivington and Essex Streets in the Lower East Side.
Pouring Ribbons: Located on Avenue B between 13th and 14th Streets in the East Village, Pouring Ribbons' conceptual menu is currently taking on "Revolutionary Artists," where you can sip on the Edvard Munch before moving on to Damien Hirst.
INTERACTIVE MAP OF PARTICIPATING LOCATIONS

Important Points:
Must be 21 years or older with valid ID

1 ticket per person

You may buy 1 additional as a gift

Misplaced tickets can not be replaced

No refunds
About Cognac:
Cognac is a Geographical Indication located on France's Atlantic Coast, 75 miles north of Bordeaux. The Cognac region and its resulting spirit—produced from wine—both take their name from the namesake town at its center. Defined by its maritime climate, clay and chalky soils and the Charente River crossing the length of the region, Cognac's history as a spirit-producing region dates back to the 16th century, though its wines had achieved notoriety three centuries before.
About the Bureau National Interprofessionnel du Cognac:
Created in 1946, the mission statement of the BNIC is to develop Cognac, representing and defending mutual professional interests of both growers and merchants. The BNIC is responsible for organizing the production of Cognac and respond to market needs; informing about, protecting and promoting the Cognac appellation; facilitating access to markets; furthering relations between merchants and winegrowers; recording sales and exports; administering the aging control system; issuing authentication certificates for exports; and acting as the official body that and safeguards the Cognac appellation. It is made up of 100 staff members. In 1909, the Cognac area of production was delimited, and in 1936 it became an AOC. In 1989, the Cognac appellation was recognized as a Geographical Indication by the European Union.
About Good Passports:
Good Passports work with bars, restaurants, breweries and alcohol retailers to drive in customers by creating limited-time promotions with multiple venues. Customers acquire a Passport that guides them around a city where they get to sample various drinks at a number of different locations. By purchasing a ticket, customers also receive a periodic email newsletter alerting them of cool and exclusive events from the participating locations.
www.ExperienceCognac.com
Facebook: Cognac Maniacs
Twitter: @CognacManiacs
Instagram: @CognacManiacs


The content of this article represents the views of the author only and is his/her sole responsibility. The European Commission and the Consumers, Health, Agriculture and Food Executive Agency do not accept any responsibility for any use that may be made of the information it contains.