The 2016 NYC Good Whiskey Passport – 40+ Whiskeys From 40+ Bars for $37
 THE NYC GOOD WHISKEY PASSPORT
– 1 whiskey at each participating location for the whole winter –
December 13, 2015 through February 13, 2016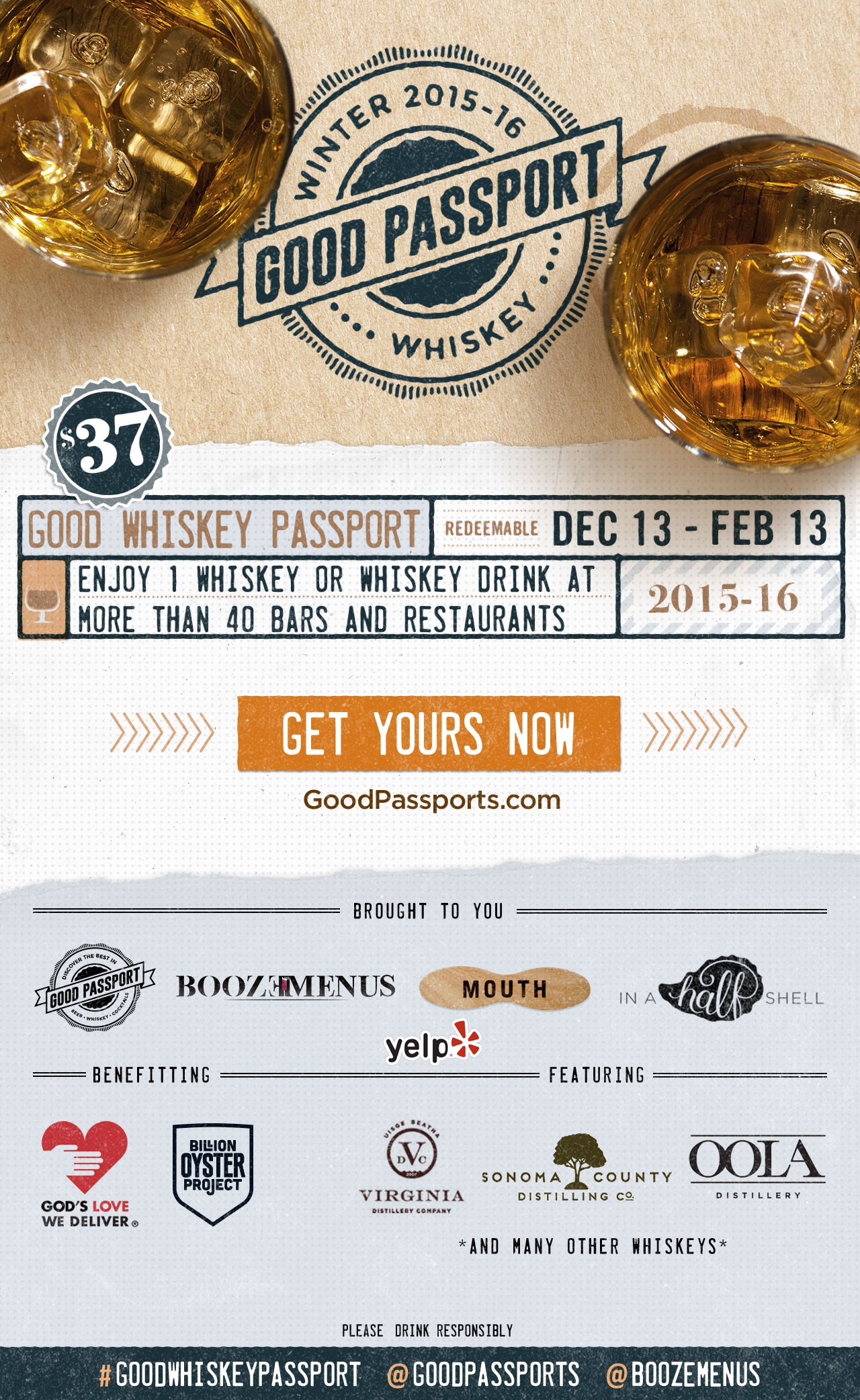 Price: $37

Good Passports, BoozeMenus, Mouth and Yelp NYC have teamed up to present the Good Whiskey Passport, which will raise funds for God's Love We Deliver and Billion Oyster Project.
By purchasing the Good Whiskey Passport, you'll get one whiskey cocktail or a neat pour at every participating location. Each participating location will offer you the choice of at least 1 of 2 whiskey cocktails or a neat / rocks pour.
Cocktails are based on 1 oz pours of liquor. You can use the passport on any day, at any time from December 13, 2015 through February 13, 2016.
You'll also receive a code for 20% off your next order from Mouth.com where you can find whiskeys like Oola, High West, Few and New York Distilling Co., gifts, indie food products and so much more. Click here to view the Mouth whiskey collection to get started.
While your enjoying the Good Whiskey Passport you'll get to try all kinds of whiskeys including Sonoma County Distilling Co, Oola Distillery, Virginia Distillery Company and many many more.
A limited amount of VIP Good Whiskey Passports will be available for purchase. VIP Good Whiskey Passports come with a free bottle of Hella Bitters and can only be picked up at Mouth Inside Spirits & Wine Gallery.
Thanks to help from our friends at In A Half Shell, 4 of the locations participating in the Good Whiskey Passport are offering you a $5 Oyster upgrade+ Just present your Passport and ask for the Oyster upgrade. For $5 you'll receive a special oyster dish.
When purchasing a Good Whiskey Passport, choose the location where you would like to pick up your Passport. Passports are available for pick-up from December 13, 2015 through January 13, 2016.
How it Works:
Buy a ticket for your preferred Passport pick-up location.
Pick up your Passport at the location you chose any day from December 13, 2015 through January 13, 2016..
Bring your Passport to each of the participating locations any day from December 13, 2015 through February 13, 2016 and choose one cocktail from a participating brand at each location.
Please remember to tip your bartenders, as gratuity is not included.
Participating Locations:
+ = $5 Oyster Upgrade available.
And more…
INTERACTIVE MAP OF PARTICIPATING LOCATIONS

Bars & restaurants interested in participating in the Passport should please reach out before November 26th at goodpassports@yeahmanagement.com

Important Points
*Must be 21 years or older with valid ID
*1 Passport per person
*Misplaced Passports can not be replaced
*No refunds will be available after January 13, 2016
*Spirits are subject to availability. Participating locations reserve the right to alter spirit selection in the event of limited supply.
*Redemption at The Rum House & Ward III Starts January 3rd, 2016 and lasts through February 20, 2016
*Mouth.com discount: Expires 2/13/16 at 11:59 p.m. EST. Must be at least 21 years old to purchase alcohol. Please drink responsibly.
About Good Passports:
Good Passports work with bars, restaurants, breweries and alcohol retailers to drive in customers by creating limited-time promotions with multiple venues. Customers acquire a Passport that guides them around a city where they get to sample various drinks at a number of different locations. By purchasing a Passport, customers also receive a periodic email newsletter alerting them of cool and exclusive events from the participating locations.
About BoozeMenus:
BoozeMenus is THE source for cocktails and nightlife in NYC. Take the guesswork out of your social life search with the all-encompassing guide to venues, new openings, cocktail & spirit trends, parties and more.
About Mouth:
Our goal is to help you discover and get the best, most delicious and most interesting indie food products and to help indie makers grow their business. We are an member of The Specialty Foods Association, an affiliate of Fare Trade NYC and a member of the Good Food Merchants Guild.
About Gods Love We Deliver:
God's Love We Deliver is the New York City metropolitan area's leading provider of nutritious, individually-tailored meals to people who are too sick to shop or cook for themselves. Founded in 1985 when one woman began delivering food on her bicycle to a man dying from AIDS, God's Love now cooks 4,600 meals each weekday, delivering them to clients living with life-altering illnesses in all five boroughs of New York City, Newark and Hudson County, New Jersey. All of our services are provided free of charge to our clients, their children and to the senior caregivers of our senior clients, without regard to income, and we have never maintained a waiting list. Because we believe the combination of hunger and serious illness is a crisis, we deliver food within 24 – 48 hours of first being contacted.
About Billion Oyster Project:
The Billion Oyster Project (BOP) is an initiative of New York Harbor Foundation that aims to restore one billion live oysters to New York Harbor over the next twenty years and in the process educate thousands of young people in New York City about their local marine environment. BOP is a partnership of schools, restaurants, businesses, nonprofits, and individuals all working together to restore oysters and make our city a healthier and more resilient place to live.