The Boston Good Beer & Cider Passport – Summer 2015 Edition
THE BOSTON SUMMER GOOD BEER & CIDER PASSPORT
20+ Full Beers & Ciders for $35
– 1 craft beer or cider at each participating location for the whole summer –
July 1st through August 31st, 2015
Price: $35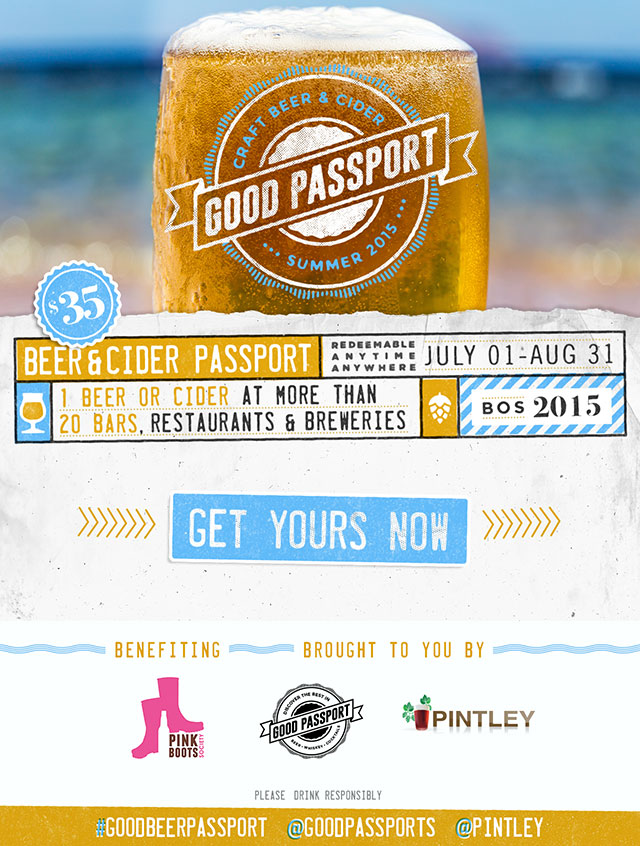 Pintley and Good Passports are proud to present The Boston Summer Good Beer & Cider Passport!
By purchasing a passport, you'll get one full craft beer or cider at every one of the 20 participating locations. You can use them any day, any time from July 1st through August 31st, 2015.
So grab your friends, enjoy the beautiful weather we finally have, and go on an adventure through the world of Boston's Craft Beer & Cider this summer!
How it Works:
Buy a ticket for the location where you would like to pick up your passport now through July 31st.
Pick up your passport at the location you chose any day from July 1st through July 31st, 2015.
Bring your passport to each of the participating locations any day from July 1st through August 31st, 2015 and choose one full pour draft or bottled beer or cider at each location. (on the passport it will say what you can order)
Valid only once per location.
Please remember to tip your bartenders as gratuity is not included.
Participating Locations:
21 Nickels
Bantam Cider
Blackstone Grill
Cape Ann Brewing Company
Champions Copley
Downeast Cider
Hopsters
Jack's Abby
Mayflower Brewing Company
Newburyport Brewing Company
Olde Magoun's Saloon
Patrons
PJ Ryans
Riverwalk Brewing
Roxy's Grilled Cheese
Slumbrew Boynton Yards
Sunset Cantina
Sunset Grill and Tap
The Ames Street Deli
…More locations to be announced!
INTERACTIVE MAP OF PARTICIPATING LOCATIONS

Fine Print:
*Must be 21 years or older with valid ID
*1 passport per person
*You may buy 1 additional as a gift
*Misplaced passports can not be replaced
*Bars will choose which beers are available, many will have price limits of beers under $7 or $8 – exact purchase will be listed on the passport
*Good Beer Passport is not valid at Pintley sponsored events

If you are a bar, restaurant, brewery or cider house interested in participating, please contact Rachel @ info@pintley.com by June 12th.
Price: $35
About Pintley:
Pintley is a craft beer community connecting drinkers, brewers, and bars. Drinkers use Pintley to discover great beer. Pintley learns from your tastes, suggests beers you'll love, and invites you to free local beer tastings where you can try them. Brewers and bars use Pintley to grow. Pintley's craft beer events help bar managers fill their bars on slow nights, while helping breweries reach new audiences and accounts.
About Good Passports:
Good Passports work with bars, restaurants, breweries and alcohol retailers to drive in customers by creating limited time promotions with multiple venues. Customers acquire a passport that guides them around a city where they get to sample various drinks at a number of different locations.
By purchasing a passport, customers also receive a periodic email newsletter alerting them of cool and exclusive events from the participating locations.